Regular price
$3.50 USD
Sale price
$3.50 USD
Unit price
per
Sale
Sold out
This booklet explains the all-important spiritual birth according to the Scriptures. The Bible is God's Word, an actual love letter He has written to tell you how you may become a Christian. However, if you have already received the lord Jesus as your Saviour, we trust this booklet will give you a fuller understanding concerning your spiritual birth and subsequent spiritual growth.
EXCERPT:
THE ISSUE
My desire is that you will find this information written to your, personally, and that is will prove to be a helpful explanation of the new birth.
Come along then, and within the next few pages you should know whether or not his is for you. Let's first consider some real-life examples so that you may determine just where you stand in this regard.
TYPICAL EXAMPLES -  My wife, Cornelia, grew up in a denominational church and school system, reaching adulthood without knowing how to become a Christian. As a young woman she began a serous search for the truth, and that by means of studying theological books.
After several years of this futile attempt she was invited to attend a weekly Bible class. It was in her study of the Book, the very Word of God, that Cornelia not only learned how to become Christian, but she accepted the Lord Jesus Christ as her Savior and was born again.
"Come unto me, all ye that labor and are heavy laden, and I will give you rest. Learn of me...and ye shall find rest unto your souls" (Matthew 11:28,29).
My experience was at the opposite end of the spectrum. Raised apart from the church or religious education, I attempted to be completely self-sufficient and independent of God.
On the basis of that attitude I was brought down to the sad existence of a poor drunkard. It was then, at the age of twenty-seven, that I finally saw myself as sinful and lost, with the grim prospect of facing a holy God in judgment.
All I could do was reach out to God for mercy, and trust Him to accept me as a lost sinner in need of salvation. With that realization I soon received the Lord Jesus as my Savior and was born spiritually, into the family of God.
"I thank Christ Jesus, our Lord, who hath enabled me, in that he counted me faithful, putting me into the ministry, who was before a blasphemer, and a persecutor, and injurious; but I obtained mercy, because I did it ignorantly in unbelief" ( 1 Timothy 1:12, 13).
TYPICAL EXPERIENCES - Your experience may be somewhat different from either of the above. Possibly you were raised in a Christian family, and your dear mother of a faithful Sunday School teacher led you to "ask Jesus in your heart" at a very tender age -- but nothing ever came of it.
Or something did come of it, and you grew up enjoying Sunday School, church, and youth activities, until college or early marriage --- and then it all faded away. The remains are but a bit of cold gray ash within, although there may still be a heart-yearning for God.
Or at some time you may have been talked into making a "commitment" to Christ by a passing "soul winner", or at a revival meeting in some church or crusade -- but there haven't been any results worth mentioning.
Or, like many others, you may have been turned off concerning Christianity because of the errant examples of some Christians.
Or --- the most common case of all -- you may have been a good church member for years, and felt that this constituted being a Christian.
On the other hand, in all honesty you may have felt unworthy in yourself ever to be accepted by God, and that has kept you from becoming a Christian.
THE ONE THING - Dear friend, regardless of your past experience or your present condition, there is but one thing that matters now! If you realize that your are not a born-again Christian, and if you acknowledge that you are a sinner and need the Savior, then God says to you in His Word:
"Seek the Lord while he may be found, call upon him while he is near; let the wicked forsake his way, and the unrighteous man his thoughts, and let him return unto the Lord, and he will have mercy upon him" (Isaiah 55:6,7)
If you sincerely want to be born again, then this material is written for you.
However, if you feel that you are not yet ready to receive the Lord Jesus Christ as your Savior, the truths set forth here may prepare you to put your rust in the One who is the Truth, the Savior who lovingly says: "I am the way, the truth, and the life; no man cometh unto the Father, but by me." "Ye shall know the truth, and the truth shall make you free" (John 14:6 ; 8:32).
Share
View full details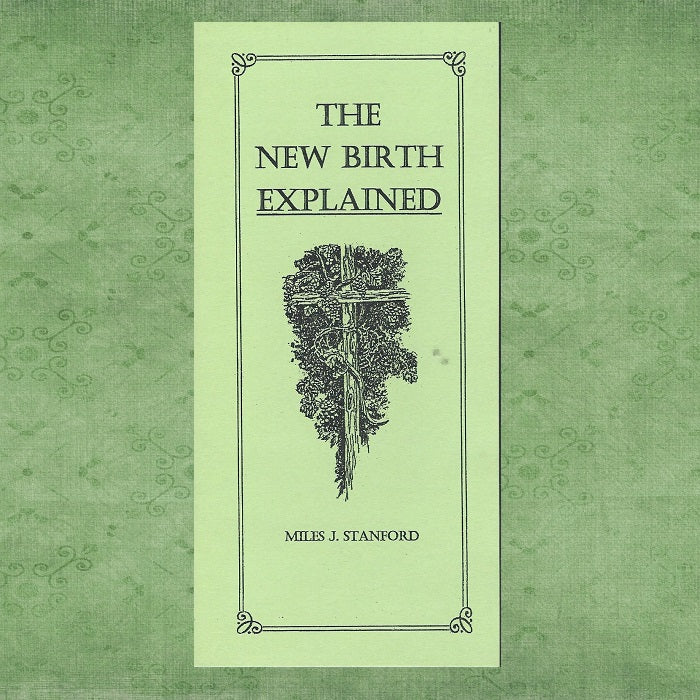 Image with text
Pair text with an image to focus on your chosen product, collection, or blog post. Add details on availability, style, or even provide a review.
Free Shipping

Pair text with an image to focus on your chosen product, collection, or blog post. Add details on availability, style, or even provide a review.

Hassle-Free Exchanges

Pair text with an image to focus on your chosen product, collection, or blog post. Add details on availability, style, or even provide a review.