Regular price
$6.95 USD
Sale price
$6.95 USD
Unit price
per
Sale
Sold out
This book is the Pauline answer to present day so called Dispensational teaching that has been called "contemporary" and "progressive" and has a horizontal and earthly view point instead of a Heavenly one. It is centered in Paul's Church Epistles and includes extensive teaching concerning the Church and the Christian Life.  Dr. Chafer and Dr. Wm. R. Newell were staunch and faithful Pauline Dispensationalists and have given their writings ample exposure in this book to help solve the present day Dispensational dilemma.
EXCERPT:
1
BREACHED BULWARKS -- There are three great fissures in the Dispensational dike, through which doctrinally contaminated Covenant theology is pouring.  These inundating law-streams arise from three sources: (1) Israel's New Covenant, (2) Israel's Sermon on the Mount, and (3) Israel's Millennial Kingdom.
These rifts are not only caused by Covenant-engineers from the outside, but also Dispensational-sappers from the inside. Unless these torrents are terminated, the Church will suffer greater devastation in the grip of Covenant Theology than she has from the turmoil and personal wreckage caused by the Arminain Charismatic chaos.
PAULINE DISPENSATIONALISM -- Our theme is as follows: The Church is to be kept separate from all else, including Israel and her Law, via clear-cut Pauline Dispensationalism.
The Lord Jesus Christ loves His Church, for whom He gave Himself on the Cross. He did so that He might cleanse and sanctify her with the washing of water by the  (rightly-divided) Word of truth. He would present her to Himself a glorious Church, not having Charismatic spot, nor Covenant wrinkle, nor any such thing, but that she should be holy and without earthly Jewish blemish (Eph. 5:25-27).
The glorified Lord delivered His sanctifying and glorifying message exclusively to His Bride through Paul--a life-gviing Word infinitely higher than His earthly message to the nation of Israel. The Pauline Gospel, governed by Pauline Dispenationalism, belongs to the Church.
DUAL GOSPELS -- Most Dispensationalists and all Covenant theologians fail to realize that there are two Gospels, each dependent upon the Blood of the Cross. The one Gospel is earthly (Kingdom), the other is heavenly (Grace). Both Gospels are "according to Jesus, " and present only one way: by faith.
One Gospel was ministered by Christ on earth, during His pre-Cross humiliation, and was exclusively addressed to Israel regarding her Millennial Kingdom. The other--altogether "new creation" other--was ministered to Paul by the glorified Lord Jesus Christ; after Calvary, from heaven, exclusively to and for His Chosen heavenly Body.
John the Baptist's, Jesus', and the Apostles' Gospel concerned the Messiah and His Kingdom--specifically and repeatedly referred to as "the Gospel of the Kingdom" (Matt. 4:23; 9:35; 24:14; Mark 1:14; Lu. 9:2,6). The other, "the Gospel of Grace of God," was neither preached nor mentioned until Paul went forth to declare it (Acts 20:24; Rom. 3:21; Eph. 3:1-3).
HEAVEN-BASED CHURCH-- The Church's Source is in heaven; as a unique body she was brought into being on earth at Pentecost. She will return to her eternal Source and abode in heaven at the Rapture--not partially, but each and every member of His completed Body. The glorious heavenly Church has no relationship, no continuity, with anything prior to the Cross, nor after the Rapture. His Body will be completed, His spotless Bride presented to Himself in heaven.
Paul's heavenly Gospel is exclusively for the Church. One need not go down to earthly Israel for anything! Why should a heavenly places in Christ, stoop to purloin some " spiritual" blessing from comparatively poor Israel? Like the wealthy shoplifter, in the 5 & 10! The Bride shares the throne with her Bridegroom, whether in heaven, or on earth.
ANTI-"ULTRA" -- Before going further, be assured that the dispensational aspects of the Word presented here are simply normal, clear-cut, Pauline teaching. We have always been opposed to all so-called "ultra," or  "extreme: Dispensationalism. We insist that the Church was born on the day of Pentecost; we insist upon the privilege and responsibility of the Lord's Supper; we insist upon believers' baptism by immersion. We have been associated with the Bible Church movement for over half a century; we are just seeking to give God's revelation to Paul its proper place, and nothing more--there is no more!
HEAVENLY GOSPEL -- The Gospel for the Church, the Gospel of the Grace of God, Paul's Gospel, is not mentioned in the Scriptures until 1 Corinthians 15:3-5. "For I delivered unto you first of all that which I also received [from Christ in glory], that Christ died for our sins according to the Scriptures; and that He was buried, and that He rose again on the third day according to the Scriptures; and that He was seen..."
"But I make known to you, brethren, that the Gospel which was preached by me is not after man. For I neither received it of man, neither was I taught it, but by the revelation of Jesus Christ: (Gal. 1:11,12).  "For I [the glorified Lord] have appeared unto thee [Saul] for this purpose, to make thee a minister and a witness of these things which thou hast seen, and of those things in which I will appear unto thee: (Acts 26:16)
"All the Apostles (except Paul) accompanied the Lord and followed Him to the cloud (Acts 1:9). Pual sees Him the other side of the cloud, and it is this which characterizes his entire ministry."
The glorified Lord directly communicated to Paul not only the great fundamentals of the heavenly Church Gospel, but totally new revelation concerning His Body--truths that He never shared with the nation Israel. These truths concerned our identification with Christ crucified, buried, resurrected and ascended; our heavenly position; our co-heirship and co-reign with our Beloved Bridegroom, and much more.
Dr. Chafer wrote, "The current neglect of the extensive doctrine of the Church is not only blameworthy, but has led to a considerable array of baneful errors. The Church is the purpose of the Father in the present dispensation, and His supreme purpose in the universe" (Systematic Theology IV:54).
INFINITELY ABOVE -- All the while the Lord Jesus' heavenly Gospel in content and position is infinitely above the Kingdom Gospel that He shared with earthly Israel--which they rejected.
Those who do not center in the truths which the ascended Lord communicated directly to Paul will not know who and where they are in Christ, or what their portion is in the purpose of the Father. Neither will they know their privileges and responsibilities. Those who are ignorant of, and hence not centered in , the Pauline Gospel as set forth exclusively in his Church Epistles, are constantly astray in their interpretation of the Gospel, to say nothing of all-important Church truth.
"Few are restful and enlightened enough to ascend from earth to heaven, and therefore there are so few who can descend from heaven to earth to manifest the Lord Jesus and to share His mind and thoughts as regards thighs here. The great secret of all blessing is to come from the Lord. Every Christian goes to Him." --J.B. Stoney
If Paul's Gospel were not other than that of Jesus' earthly Kingdom Gospel, he would naturally have been instructed by the Apostles who had been with and taught by Jesus all during His earthly ministry. On the contrary, the Apostles had to be indoctrinated by Paul concerning most of the new-creation truth.
"...even as our beloved brother, Paul, also according to the wisdom given unto him hath written unto you; as also in all his Epistles, speaking in them of these things, in which are some things hard to be understood, which they that are unlearned and unstable wrest, as they do also the other Scriptures, unto their own destruction" (2 Pet. 3:15,16), Be warned, all ye who would wrest, rather than rest and rightly divide! There is a heavy penalty involved in forsaking Pauline Dispensationalism for Covenant Theology, or even Neo-Dispensationalism.
"The sublimest truths are still needed to enforce the simplest responsibilities. As the laws which mould the stars and move the gigantic orbs of Saturn and Uranus in their tremendous circuits, shape the dew-drop that glistens at the end of a blade of grass, so should everything in the Christian's life be regulated by the principles which lie in the Person and Cross of the glorified Lord Jesus Christ. To isolate Christian morality from Christian theology is to rend asunder the teachings of t he Pauline Epistles, as to their deepest and most vital elements." -- W. G. Scroggie
"The laws of the Kingdom are not required to be combined with the teachings of Grace, since every item within those laws which could have any present application, is exactly and amply stated in the Pauline teachings of Grace." --Chafer (Grace, P. 233)
"If thou put the brethren in remembrance of these things, thou shalt be a good minister of Jesus Christ, nourished up in the words of faith and of good doctrine, unto which thou hast attained" (1 Tim. 4:6).
Share
View full details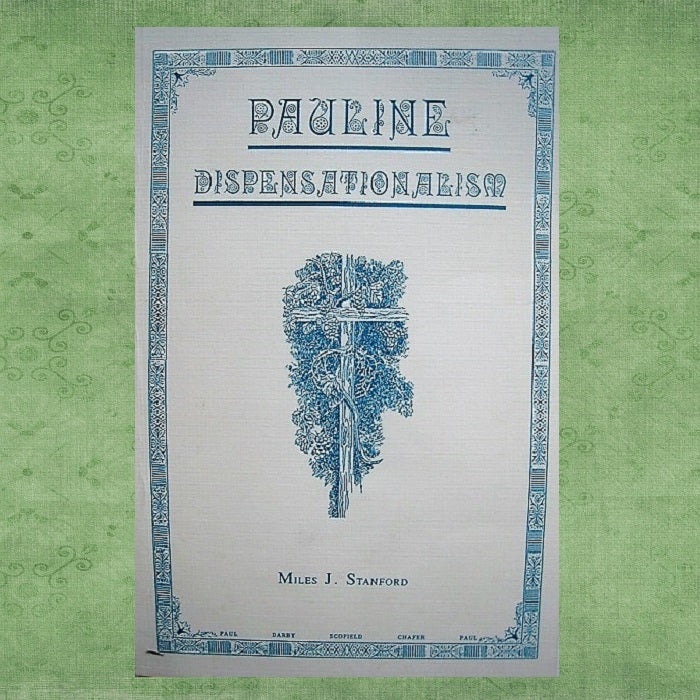 Image with text
Pair text with an image to focus on your chosen product, collection, or blog post. Add details on availability, style, or even provide a review.
Free Shipping

Pair text with an image to focus on your chosen product, collection, or blog post. Add details on availability, style, or even provide a review.

Hassle-Free Exchanges

Pair text with an image to focus on your chosen product, collection, or blog post. Add details on availability, style, or even provide a review.