Regular price
$14.95 USD
Sale price
$14.95 USD
Unit price
per
Sale
Sold out
A 365 day devotional that will help you in your Christian growth and walk with the Lord Jesus Christ.  This devotional is a collection of quotes from some of the best authors in the realm of Christian growth that has been organized by Miles J Stanford.  This devotional study is divided into 12 sections each containing 31 daily portions.
Excerpt: 
1-10. REST IN HIM
"He has created us through our union with Christ Jesus fro doing good deeds which He beforehand planned for us to do" (Eps. 2:10, Wms.).
The turning point in our Christina life comes when we begin to "let God be God," the day we throw all caution (fear) to the winds and look to Him to carry out His purpose for us in His own time and way.
"Our Father never does a thing suddenly: He has always prepared long, long before. So there is nothing to murmur about, nothing to be proud of, in the calling of God. There is also no one of whom to be jealous, for other people's advantages have nothing to do with us. 'It is not of him that willeth, nor of him that runneth, but of God that hath mercy' (Rom 9:16). Our heritage, our birth, our natural equipment: these are things already determined by God. We may pick up other things in the ay, for we are always learning; but the way is His way. When we look back over our life, we bow and acknowledge that all was prepared of God. To have such an attitude of hear, that is the true rest." -W.N.
"Let us take care lest we get out of soul-rest in seeking further blessing. God cannon work whilst we are anxious, even about our spiritual advance. Let us take him at His Word, and leave the fulfillment of it to Him."
"For it is God Himself whose power creates within you the desire to do His gracious will and also brings about the accomplishment of the desire" (Phil 2:13 Wey.).
1-2. LIFE'S PURPOSE
"For in Him dwelleth all the fullness of the Godhead bodily" (Col. 2:9).
Our Lord the Vine provides all that His branches will ever need for fruit-bearing. All provision is according to our Father's riches in glory by Christ Jesus (Phil. 4:19).
"Christian growth is the becoming real in ourselves, of what is already true of us in the Lord Jesus. 'I am the vine, ye are the branches, He says. But the vine furnishes the branches, not only with the principle of life, but with the type of life. No pressure or molding from without is needed to shape them to the pattern of the parent stock. Every minutest peculiarity of form, and color, and taste, and fragrance is determined by the root, and developed from it. A true believer, therefore, will ask no better thing of the Lord than that the life also of Jesus may be made manifest in his body (2 Cor. 4:11). For such a manifestation will, by a necessary principle, be the unfolding within him of every needed element of joy and sorrow, of suffering and triumph."- A.J.G.
"Straining, driving effort does not accomplish the work God gives a man to do; we must partake of Christ so fully that He more than fills the life. It will then be not overwork but overflow."
"And ye are complete in Him, who is the head of all principality and power" (Col. 2:10)
1-3. RELENTLESS PURPOSE
"For the eyes of the Lord run to and fro throughout the whole earth, to show Himself strong in the behalf of them whose heart is perfect toward Him" (2 Chron. 16:9)
All of God's thoughts concerning us are centered in His Son, where He has placed us. Hence they are "thoughts of peace, and not of evil" (Jer. 29:11). Others may do evil against us, but our Father turns it into our good, for Jesus' sake.
"The purpose of God is that through the conditions and sufferings of my life should develop in men the features of His Son. On the one hand, the features of the old creation may be seen to be more and more terrible and horrible, as I recognize them in myself; but over against that God is doing something which is other than my old self. He is bringing into being Another, altogether other, and that is His Son, my new life. Slowly, seemingly all too slowly; nevertheless something is developing. The sonship is not very much in evidence yet, but it going to be manifested. What God has been doing will come out into the light eventually-conformity to the image of His Son."- T.A-S.
"Afflictions are in the hands of the Holy Spirit to effect the softening of the heart in order to receive heavenly impression. Job said, 'God maketh my heart soft' (Job 23:16). As the wax in its natural hard state cannot take the impress of the signet, and needs to be melted to render it susceptible, so the believer is by trials prepared to receive, and made to bear, the divine likeness."
"Rooted and built up in Him, and stablished in the faith, as ye have been taught, abounding therin with thanksgiving." (Col. 2:7)
1-4. DESERT RICHES
"And He said unto them, Come ye yourselves apart, into a desert place, and rest a while" (Mk 6:31).
In the early days of our lonely pilgrimage, the desert is nothing but burning heat and barren sand. As we "keep on keeping on," we see our desert become full of springs and blossom as the rose.
"Has the Father led you into the desert? Has He plucked from under your feet all that you depended upon? Then a glorious experience is yours. See if this be not a way wherby God will glorify you! Do not complain about what you have lost, and do not yearn to have it back again, for then you are like Israel who wished to turn back to Egypt. God leads on, and instead of the flesh-pots He gives you bread from heaven, and instead of water from the Nile, water from the Rock. But you must put your trust in Him also in the desert, and through the days of darkness and difficulty. This is possible, however, only for those who have lost their self-assurance in the desert whereto Go beckons His children."
"Are there sorrows that sorely test our hearts? Be assured that our Father intends every one of them to be a road for us to Christ; so that we may reach Him and know Him in some character of his love and power, that otherwise our souls had not known."-C.A.C
"And they thirsted not when He led them through the deserts: He caused the waters to flow out of the rock for them..." "...for they drank of that spiritual Rock that followed them: and that Rock was Christ" (Isa 48:21; 1 Cor. 10:4).
1-5. LOVE DRAWS AND CONFORMS
"Yea, I have loved thee with an everlasting love: therefore with lovingkindness have I drawn thee" (Jer. 31:3).
God is the first and only Cause. He always make the first move. "For God so loved...that He gave";"Ye have not chosen Me, but I have chosen you" (John 3:16; 15:16). Even the hunger of heart necessary for our response to His love comes from Him. "But the God of all grace, who hath called us unto His eternal glory by Christ Jesus" (1 Pet. 5:10). He brought us to His Son; He will make us like His Son.
"If you feel the drawing of God within, cherish it as you would cherish a great treasure. If your are aware of a deep hunger, if you are entering into a closer walk with Him, do not look upon it carelessly, nor treat it lightly. But if you do not feel the divine drawing and hunger for God, cry to Him that He will give it you; and ever remember that the desire for hunger is the beginning of hunger, and that you cannot feed upon the Lord Jesus Christ until you are spiritually hungry." -H. McI.
"Our Lord is generous in His provision, but He is neither casual nor wasteful. There must be a real hunger and felt need. It is a fixed principle with the Lord that He does not move until something like desperation makes it evident that it is His move." -T. A-S.
"No one is able to come to Me unless the Father who sent Me attracts and draws him and gives him the desire to come to Me" (John 6:44, Amp.).
1-6. FULLNESS OF SELF
"Cease ye from man, whose breath is in his nostrils: for wherein is he to be accounted of?" (Isa. 2:22)
As Christians we are going to be led by one of two powers: the self-life, or the Spirit of life in Christ Jesus. The former will make life hell, the latter, heaven.
"He who knows that awful power of the self-life within; its enmity with God; its carnality; its grieving and quenching of the Spirit; its deadly blighting of all the blessed fruits of the Spirit; its fierce and desperate resistings of his hunger to enter into the full life of the Spirit, needs no other explanation of the lack of the fullness of the Spirit than the fullness of self." -J. H. McC.
"Do not seek to shatter the mirror which reflects your soul's lack of beauty; rather welcome the truth, and believe that next to knowledge of the Lord Jesus nothing is so important as the knowledge of self." -N.G.
"There is nothing in self worth holding on to; it ought to be handed to the Cross; we have submitted ourselves to such a life as that, and our Father is going to give us every opportunity to allow the Holy Spirit to hold the old nature in the place of death, with the glorious end in view that our Lord Jesus will have the preeminence." -F.M.
"I have heard of Thee by the hearing of the ear: but now mine eye seeth Thee. Wherfore I abhor myself, and repent in dust and ashes" (Job 42:5,6)
1-7. LIFE'S MOTIVATION
"For as many as are led by the Spirit of God, they are the sons of God" (Rom. 8:14)
It takes a good many years of sin and failure in order to see through our own motives. The growing believer finally learns to trust but one source of motivation: "the Spirit of life in Christ Jesus" (Rom. 8:2)
"All of our motives will be tested by fire. Are we seeking personal influence, popularity, reputation, prestige, acceptableness, success? We may think our motives to be perfectly pure; but not until we pass into daily death, death to any or all of the above, and find ourselves 'despised and rejected of men,' our names cast out as evil, and a real hold-up (seemingly) of our work, do we really come to face the true purpose and motive of our having any place in the service of God. The Cross separating us from everything Adamic both within and without is a good test of motives.
"Men of God who have been truly used by Him have gone this way. Not upon our flesh-whether it be the gross flesh or the refined, soulish, educated flesh-will God allow His Spirit to come. Before there can be life for others there must be death for us (2 Cor. 4-12). Before there can be the fire of God there must be an altar and a sacrifice; and it must be the burnt offering." - T. A-S.
"Present your bodies as living sacrifice...which is your reasonable service" (Rom. 12:1)
1-8. UNCLEAN! UNCLEAN!
"Woe is me! for I am undone; because I am a man of unclean lips...for mine eyes have seen the King the Lord of hosts" (Isa. 6:5)
Paul wrote, "In everything give thanks: for this is the will of God in Christ Jesus concerning you" (I Thess. 5:18). This includes giving thanks for the disclosure of self! At first, we seek to hide our sinfulness and to save our life. Later, by His grace, we yearn to be freed from self, regardless of the cost. And the price is the Cross.
" Many a young Christian, who has not been forewarned of this necessary voyage of discovery upon which the Holy Spirit will certainly embark him (Romans Seven), has been plunged into almost incurable despair  at the sight of the sinfulness which is his by nature. He has in the first place rejoiced greatly in the forgiveness of his sins, and his acceptance by God; but sooner or later he begins to realize that all is not well, and that he has failed and fallen from the high standard which he set himself to reach in the first flush of his conversion.
"Little does he know how healthy his condition is, and that this shattering discovery is but the prelude to a magnificent series of further discoveries of things which God has expressly designed for his eternal enrichment. All through life God has to show us our own utter sinfulness and need, in order to more fully lead us on into realms of grace." -J.C.M.
"But the Lord is faithful, who shall stablish you, and keep you from evil" (2 Thess. 3:3)
Share
View full details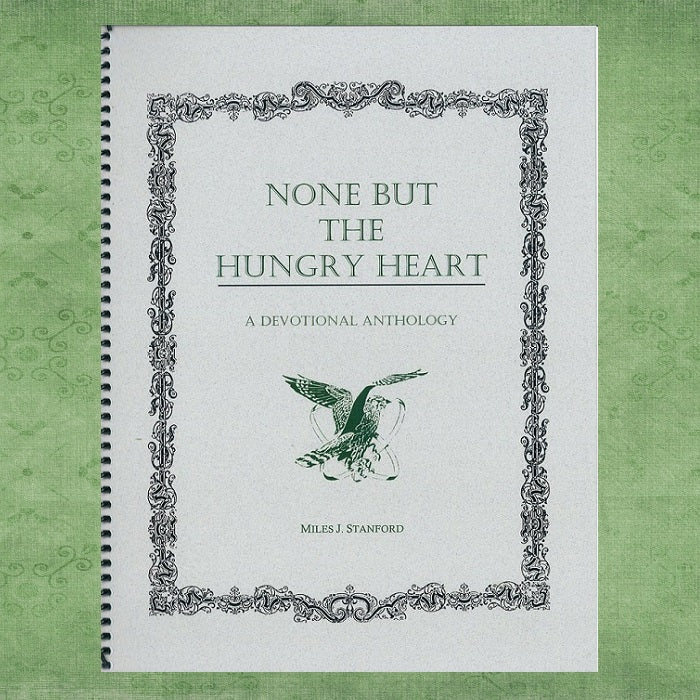 Image with text
Pair text with an image to focus on your chosen product, collection, or blog post. Add details on availability, style, or even provide a review.
Free Shipping

Pair text with an image to focus on your chosen product, collection, or blog post. Add details on availability, style, or even provide a review.

Hassle-Free Exchanges

Pair text with an image to focus on your chosen product, collection, or blog post. Add details on availability, style, or even provide a review.