Regular price
$3.50 USD
Sale price
$3.50 USD
Unit price
per
Sale
Sold out
This booklet gives a  brief explanation of the believer's identification with, and position in, the Lord Jesus Christ, who is our Life.
EXCERPT:
GALATIANS 2:20 -- In order to help rectify this debilitating lack in the Body, we share some thoughts based upon Paul's celestial and comprehensive statement, Galatians 2:20.
In this awe-inspiring portion of the Word, the Apostle refers to himself, and every believer, eight times. These components must be properly delineated if there is to be scriptural understanding of, and practical benefit from, this heart of identification and position truth.
This morning my bride was reading some devotional writing by a well known and highly talented contemporary writer.  One sentence struck me as somewhat deficient: "God always completes what He begins. That includes you. He started working on you years ago, long before you became a Christian." It would have been helpful had the author begun a bit further back. Way back! All the way back! Such as:
ANTERIOR TO ALL -- Once upon Eternity there was but infinite non-existence--no atom, no universe, no world; nothing, nothing, nothing...but GOD. The Eternal Triunity of Love: God the Father, God the Son, and God the Spirit. "For thus saith the high and lofty One who inhabiteth Eternity, whose name is Holy" (Isa. 57:15).
Let your heart, dear friend, be drawn back There, and contemplate the Beloved Son eternally in the bosom of the loving Father, receiving and reciprocating that Divine Love in all of its unutterable purity and ardor, in the Spirit of Love.
Back there in Eternity
Before anything had been brought into being
Environed in the pure essence of Divine Life,
Light, and Love
In the mind of the Father, heart of the
Son and hands of the Spirit
 By and for His love, God conceived YOU!
Thought of in Eternity past
Brought forth in time
For Eternity future
Forever Loved.
"In the secret place of the Most High"; "in the bosom of the Father" (Ps. 91:1; John 1:18), before anything was created -- the Father fashioned YOU in His heart of love. "Thine eyes did see my substance, yet being unformed; and in Thy Book all my members were written, which in continuance were fashioned, when as yet there was none of them" (Ps. 139:15).
When the Giver of the Gift thinks and speaks, even in Eternity past, it is done! While He may not choose to carry it out immediately, it is forever completed. "For He spoke, and it was done." "That which hath been is now, and that which is to be hath already been" (Ps. 33:9; Eccl. 3:15)
The perceptive Elizabeth Barrett Browning said it in verse:
Ere suns and moons could wax and wane,
Ere stars were thunder girt, or piled
The heavens, God thought on me His child,
Its circumstances every one
To the minutest; aye, God said,
This head this hand shouldest rest upon
Thus, ere He fashioned star or sun.
ETERNAL SURETY -- Here is your eternal security and assurance; your source of rest and confidence in your sovereign Father. what He has decreed concerning YOU in eternity past, He is carrying out her in the present and on into eternity future. All is based upon scriptural truth; nothing is predicated upon chance, or speculation.
"And we know that all things work together for good to them that love God, to them who are the called according to His [eternal] purpose. For whom He did foreknow, He also did predestinate [mare out, determine beforehand] to be conformed to the image of His Son, that He might be the firstborn among many brethren.
Moreover, whom He did predestinate, them He also called; and whom He called, them He also justified; and whom He justified, them He also glorified.
What shall we say to these things? If God be for us, who can be against us? He that spared not HIs own Son, but delivered Him up for us all, how shall He not with Him also freely [grace] give us all things?" (Rom. 8:28-32).
Dr. Lewis Sperry Chafer clearly stated:
"In the areas stated above, the Holy Spirit, the divine Author, asserts  that precisely what God purposes in eternity He brings to glorious fruition, By specific steps and by wholly adequate means He realizes all that He purposes.
Whom He predestinates, He calls. Whom He calls, He justifies; and whom He justifies, He glorifies. These are among the things which 'work together for good' to those who are called according to His purpose.
Divine election is absolute. If this seems to be taking things out of the hands of man and committing them into the hands of God, it will at least be conceded that, when thus committed to God, things are in better hands and this, after all, is God's own universe in which He has sovereign right to do after the dictates of His own blessed will" (Systematic Theology III:350)
Share
View full details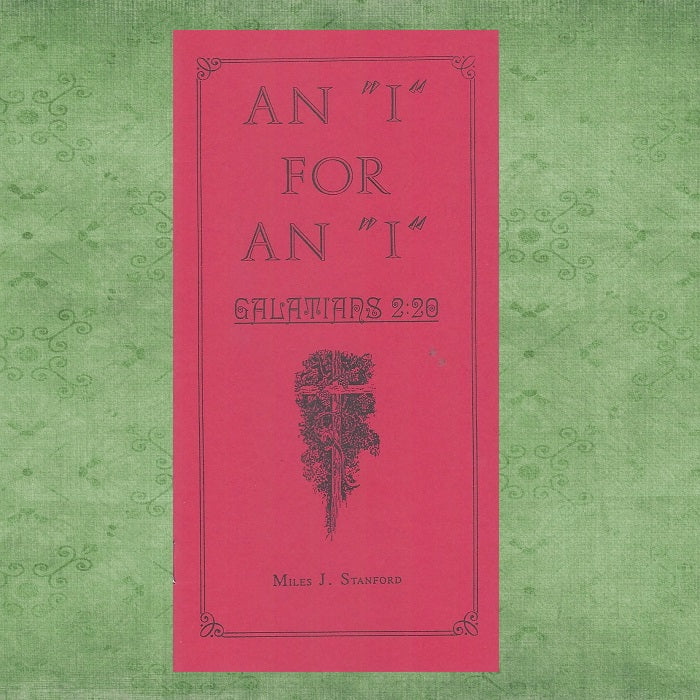 Image with text
Pair text with an image to focus on your chosen product, collection, or blog post. Add details on availability, style, or even provide a review.
Free Shipping

Pair text with an image to focus on your chosen product, collection, or blog post. Add details on availability, style, or even provide a review.

Hassle-Free Exchanges

Pair text with an image to focus on your chosen product, collection, or blog post. Add details on availability, style, or even provide a review.